You can't really call this a new listing as it's been live in my shop since July but it's the first opportunity I'd have to post pictures of  this set of scarves on my blog, so better late than never.
Because of my love for history and in particular my interest in reading about ancient trade routes, I deicided to design and paint to set of scarves that summed up my thought about trading, spices and market places. Here is the first it's called, "Phoenician Purple".
"A swish of purple in the market place. Tall beaded men in cloaks. They've come back from foreign shores. Barrels, baskets and jars. Hustle, bustle all around. Everyone clusters. Exotic and exciting. Money changing hands. In a blink of an eye it's all gone. The strangers leave, ships empty, purses full. They'll be back."
This scarf celebrates the Mediterranean sea traders, the Phoenicians and in particular their trade in the Tyrian purple dye. The Phoenicians were some of the greatest traders of their time, their trade routes stretching all the way from Spain, along the coast of north Africa to what is now modern Turkey.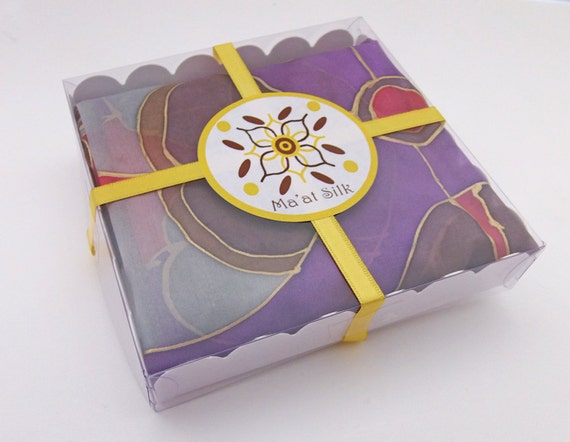 Have a creative day!
M
FIN
Design and Writing © Ma'at Silk